---
Gamme de déshumidificateurs CZ FLEX

Dehumidifying capacity at 20%C / 60%RH
57 – 141 kg/h
Dry air flow
3200 – 8000 m³/h
---
TECHNICAL DATA
| | CZ-82 | CZ-102 | CZ-102L | CZ-104 |
| --- | --- | --- | --- | --- |
| Dry air flow m³/h | 3200 | 5200 | 7200 | 8000 |
| Dry air condition* g/kg | 1,1 | 1,1 | 1,3 | 1,1 |
| Dry air available pressure Pa(s) | >200 | >200 | >200 | >200 |
| Dehumidification capacity kg/h* | 57 | 92 | 125 | 141 |

* At process air inlet 35°C 15,8 g/kg and cooler 1 as a precooler with water in/out 6/12°C
---
COILS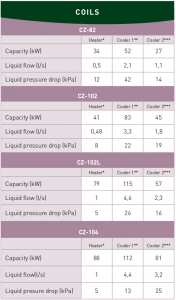 * 80/60°C
** 6/12°C, 0% freezing additive. Cooler 1 as precooler.
*** 6/12°C, 0% freezing additive. Cooler 2 as precooler.
Cooler 2 can also be placed as a precooler.
---
ROTOR MODELS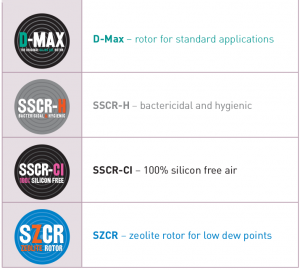 ---
CZ-FLEX – choose components according to your project

Simpler planning with one supplier
CZ FLEX consists of a modular system integrated with an CZ standard dehumidifier. Choose components such as precooling and postcooling, or integral temperature and moisture control. DST supplies a complete unit, which results in simpler planning, faster commissioning and unequivocal functional responsibility compared with systems built up via several different suppliers. All control functions are tested at the factory prior to delivery.
With CZ Flex, the combination of precooling and sorption dehumidification is optimal for every project. For applications with stringent hygiene requirements, we recommend a solution using dry cooling. The CZ units are available with the option of hot-water coil for regeneration air pre-heating.
Module structure
The modules are made up using an aluminium framework. The panels are made from aluminium zinc (stainless steel is available as an option) with 50 mm double wall insulation, which also results in high levels of noise attenuation. All functional elements (see the example below) can be placed either before or after the dehumidifier.
Filter
CZ Flex comes with integral bag filters, class F7, with centre latches fitted as standard or F9 as an optional extra.
Heating and cooling coils
Cooling coils are available with various outputs. Inspection hatches are placed before and after the coils. The fins of the cooling coil are treated with hydro fin, which prevents water carry-over and reduces the pressure drop.
Fans
A directly driven process fan with rear-facing blades requires minimal servicing and ensures low energy consumption. The chamber fan can be provided with a frequency converter (optional). The fan is mounted on runners. At low dewpoints, the fan can be placed before the dehumidifier as a compressive fan. The impeller is powder-painted.
Controls
Temperature and moisture control are available as optional extras, and are programmed and tested at the factory for faster startup in site. Sensors and controllers are supplied with cables for simple connection to the central electric unit.
Washable, highly efficient rotor
All dehumidifiers come with the D-MAX rotor fitted as standard. The D-MAX has a high deshumidification capacity and long service life, and it is washable and non-flammable. Another three rotors with unique properties are available as optional extras.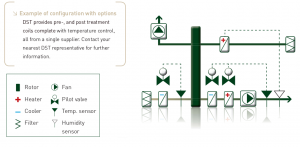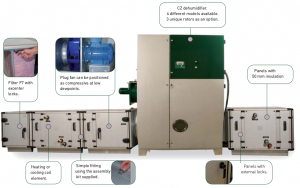 ---
DRAWINGS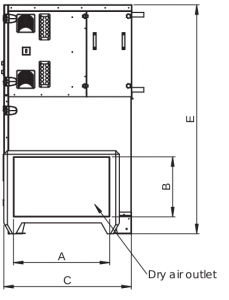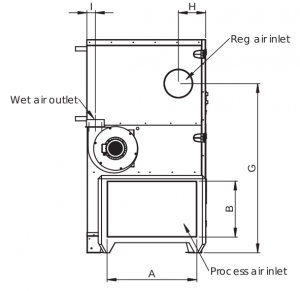 ---
DIMENSIONS

---
APPLICATIONS
CZ FLEX has been developed for applications requiring complete solutions for dehumidification, with moisture and temperature control. These units can also be fitted with special requirements; during pharmaceutical manufacturing, in the plastics industry, the manufacture of food and confectionery, the automotive industry, and others.

---

CBK L'Air Sec
Z.I. 37 rue du bois chaland,
bâtiment 5C | 91090 LISSES
Tél: +33 (0)1 34 20 01 37 | Fax: 01 30 38 00 38
www.cbk.fr | cbk@cbk.fr